Yen Bai removes difficulties for farmers engaging in forestry
On the foundation of the outcomes of the Forest and Farm Facility (FFF) Programme in the first phase, the UN Food and Agriculture Organisation (FAO) will continue to support the second phase of the programme in the 2019-2022 period in Vietnam, including Yen Bai province.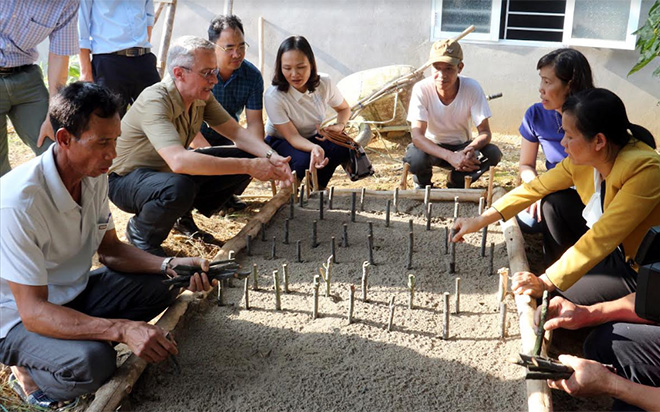 The provincial Vietnam Farmers' Union coordinates with experts from the FFF Programme to popularize the ardisia silvestris farming techniques to farmers in Dao Thinh commune, Tran Yen district.
The FFF Programme was launched by the Vietnam Farmers' Union (VNFU) Central Committee in Yen Bai in 2015, with the first phase ending in 2017. In the first phase, two cooperatives, 22 cooperation groups, and 31 forest planting groups with over 1,000 members were established.
The outcomes of the first phase motivated the FAO to continue sponsoring the programme in the second phase with the goal of enhancing the capacity for forest and farm developers in Vietnam, and supporting households, women, youngsters and people from ethnic minority groups to develop forest and farm sustainably, thus reducing poverty and adapting to climate change.
Recently, at a round-table conference to seek solutions to difficulties facing farmers in forestry production, the provincial farmers' union as well as localities, departments, sectors and relevant agencies and FFF programme's representative in Yen Bai shared their experience in building value chains and popularizing policies in order to win the support of relevant agencies in building cooperation groups and cooperatives.
Participants gave suggestions to farm and forest developers in building models and promoting links in sustainable forest development. However, farmers pointed to their difficulties in capital, technology, market, and prices of forestry products.
Pham Ngoc Son, a farmer from Tan Dong commune, Tran Yen district, said that he can only sell his ardisia silvestris to traders in an unstable manner. He expressed his hope to connect to businesses for more stable market, enabling him and his fellow farmers to maintain production.
From proposals of farmers, local governments and businesses outlined a number of solutions to remove obstacles facing farmers, including the organisation of training courses to transfer technology to farmers, along with support in capital and policy as well as recommendations in production models and economic linkage for sustainable forest development.
In the event, Hoa Phat Industrial Company, with nearly 20 years of doing business in Yen Bai, vowed to continue to accompany local farmers through providing them with capital, saplings and fertilizers, enabling them to expand their forest areas.
The firm aims to expand the FSC-standard forest areas to 3,000 hectares in Luc Yen district and 2,500 hectares in Van Chan district within 2020, and plans to build two wood processing factories with combined capacity of 500,000 cu.m per year.
Other news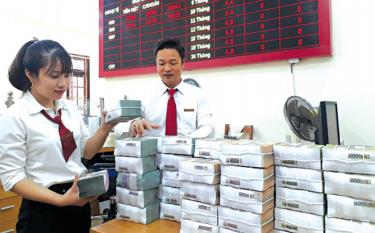 Despite annual deposit rates being adjusted down between 0.3 and 0.5 percent, idle money continues to flow into banks in Yen Bai.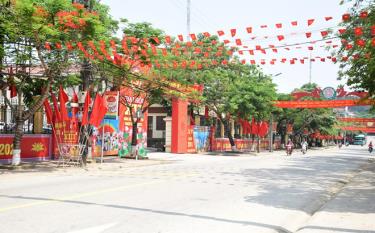 Van Yen district in Yen Bai province is striving to elevate potential communes, namely An Thinh, An Binh and Xuan Ai to tier-V urban areas by 2025, while focusing all resources on developing Mau A township from a tier-V urban area to a tier-IV urban area in near future.
Yen Bai province was ranked 36th among the country's 63 provinces and cities in the Provincial Competitiveness Index (PCI) in 2019, and placed in the group of localities with good governance, according to the rankings announced by the Vietnam Chamber of Commerce and Industry (VCCI) on May 5.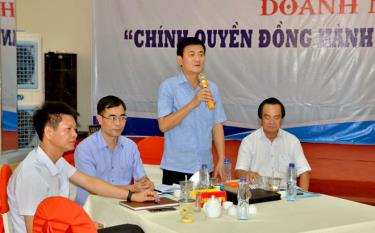 The provincial People's Committee, the Party organisation of the bloc of provincial agencies and businesses, and the business association in Yen Bai on August 28 co-hosted a monthly meeting among local businesses called "Business Café" to discuss impacts of the Vietnam-European Union Free Trade Agreement (EVFTA) on the Vietnamese economy.