Luc Yen enhances value of local agricultural products
Tuesday, November 16, 2021
YBO - Luc Yen district has implemented the One Commune One Product (OCOP) programme with many specific solutions designed for typical local agricultural products such as Lam Thuong dried bamboo shoots, Khanh Thien sticky rice and Minh Tien peanut...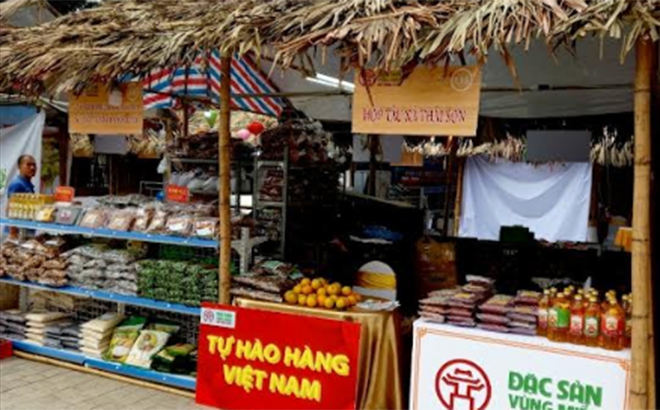 OCOP products of Thai Son Cooperative in Luc Yen district' Tan Linh commune, are introduced at the Vietnam Local Specialties Fair 2020 in Hanoi.
According to Hoang Thai Minh, Chairman of Khanh Thien commune People's Committee, Lao mu sticky rice - a traditional local variety - has been cultivated for a long time by the Tay ethnic people.
The rice has a sweet and soft taste. What makes this sticky rice special is that cooked rice grains don't stick together like most other types of sticky rice. Therefore, the locality has decided to make Lao mu sticky rice into an OCOP product.
Accordingly, the commune has coordinated with the district's Agricultural Development Support Service Center to organise four training courses for 246 farmers on the project of developing a production chain linking sustainable farming and marketing and sales of rice product.
The locality will complete the necessary dossier and submit it to the competent authorities for assessment and classification. Once becoming an OCOP product, there will be a close connection between producers and consumers relating to Lao mu sticky rice in a stable and sustainable manner, helping increase the rice production value per hectare of land.
In addition to Lao mu sticky rice in Khanh Thien, this year, Luc Yen district has also chosen two other local products for the district's OCOP products, namely condensed extract from gam (Gnetum gnemon) and Giao Co Lam (jiaogulan or Gynostemma pentaphyllum) - local precious medicinal plants.
Up to now, Luc Yen district has 11 OCOP products rated three stars by the provincial People's Committee, including Thai Son red peanut oil, white peanut oil, Thai Son sesame oil, soybean oil, red peanuts, Luc Yen oranges, purple potatoes, Lam Thuong apricots, Cao gam and Giao Co Lam.
Dam Van Viet, Chairman of the Board of Directors of Thai Son Cooperative in Tan Linh commune said the products after being recognized as OCOPs are known and favoured by many consumers. Through trade promotions, OCOP products of the cooperative have been on sale in supermarkets and trade centres nationwide, contributing to improving the value of agricultural products and income for local farmers.
Other news
Though the COVID-19 situation remains complicated and unpredictable, production and business establishments in Yen Bai province, especially the distributors of goods serving the Lunar New Year (Tet) festival, have devised detailed plans to stockpile essential goods, according to the provincial Department of Industry and Trade.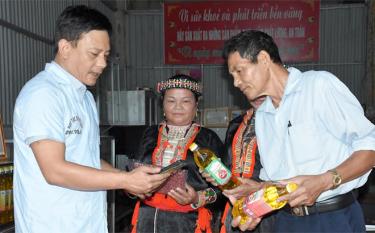 Luc Yen district has 12 products that earn three-star rating in Yen Bai province's 'One Commune, One Product' programme.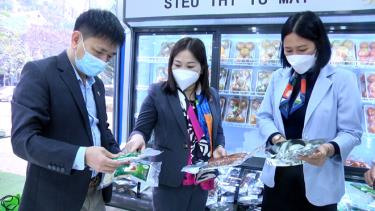 The centre for youth activities of Yen Bai province has freshly opened a shop to introduce products made by local young people.
A series of measures are implemented in Yen Bai province to increase purchasing power and stimulate market demand amid negative impacts of the COVID-19 pandemic.