Role models multiplied among farmers in Yen Bai
YBO - More than 117,600 households in Yen Bai province were recognised as production and business role models between 2016 and 2018, including over 93,400 at the communal level and 24,000 others at the district level.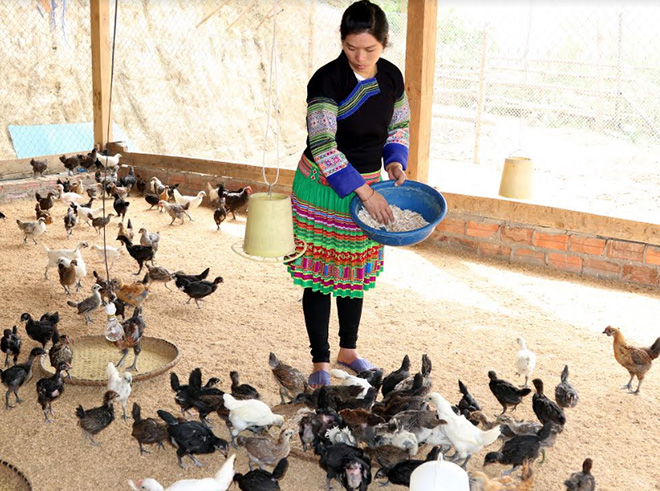 An indigenous black chicken farming model in Lao Chai commune of Mu Cang Chai district that generates an annual income of over 100 million VND.
As a dynamic woman, Nguyen Thi Nang, head of the farmers' union in Tham Pong hamlet of Yen Thang commune, Luc Yen district, decided to combine farming livestock with running an agricultural supply store.
This model generates more than 600 million VND (25,600 USD) in annual income, including 380 million VND from the agricultural supply store, 100 million VND from pig farming and 150 million VND from a grocery.
Aside from providing jobs for more than 10 seasonal workers with the monthly income of 6 million VND, Nang has also shared experience with and given technical guidance to more than 50 farmers while assisting six disadvantaged households with capital, seeds and agricultural supplies.
Thanks to peer support, many members of the farmers' union in Yen Bai have escaped from poverty and become production and business role models.
For example, Le Van Thuc in A Ha hamlet of Nghia Phuc commune, Nghia Lo town, has gained success in the processing of pine nuts and Lanxangia tsaoko seeds, which earns him 400 million VND each year and creates jobs for more than 100 people with the average income of 4 – 5 million VND per month.
Do Van Vong, a resident in Phuc Khanh hamlet of Vinh Kien commune, Yen Binh district, used to be a low-income earner. However, thanks to his own efforts and assistance from successful households, the disabled man has managed to develop a business model that generates an annual income of over 500 million VND.
Over the last five years, households with successful production and business activities have assisted over 20,000 poor farmers with 46.4 billion VND via soft loans, along with about 17.3 billion VND worth of seedlings and small livestock for farming. They have also spent more than 204,000 workdays on helping disadvantaged farmers build houses, renovate farmland and make livestock cages.
Successful production and business households provided jobs for more than 9,000 people in 2016 and 8,200 in 2018. The labourers' income increased from 50 million VND to 80 million VND per year during the period. In 2019, nearly 200 member farmers were assisted to escape from poverty.
Other news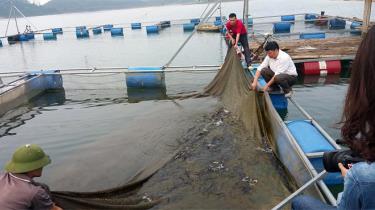 "Nganh" fish, scientifically known as Cranoglanis henrici, belongs to order Siluriformes. This species of fish is mainly found in Thailand, the Philippines, Indonesia and China.
Over the last five years, Yen Bai province has mobilised over 50 trillion VND (2.2 billion USD) for developing infrastructure, including key projects meant to help boost local socio-economic development and the facilities mitigating natural disaster damage.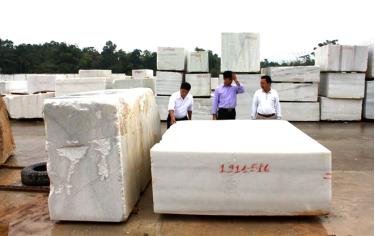 The northern province of Yen Bai has taken a number of measures to help local businesses overcome difficulties and complete the goal of 210 million USD in export revenue in 2020.
On the foundation of the outcomes of the Forest and Farm Facility (FFF) Programme in the first phase, the UN Food and Agriculture Organisation (FAO) will continue to support the second phase of the programme in the 2019-2022 period in Vietnam, including Yen Bai province.