Yen Bai promotes digital transformation in agricultural development
Tuesday, September 21, 2021
YBO - Yen Bai province's agricultural sector has concentrated on developing a Big Data system on land, crop, livestock and fishery to serve smart and precision agriculture development, thus increasing the proportion of hi-tech agriculture in the province's economy.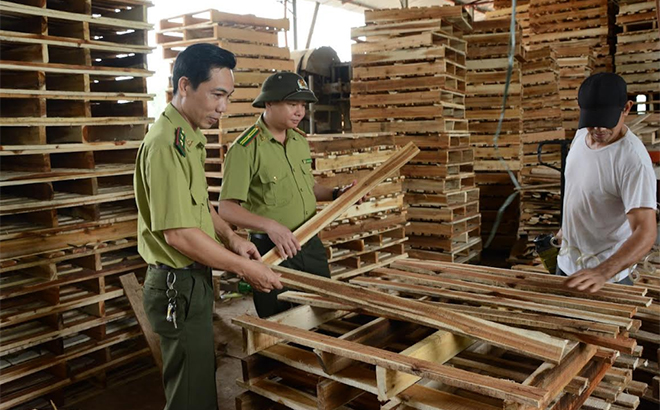 Checking the quality of processed timber in order to ensure export standards.
Yen Bai is a mountainous locality, where agriculture and forestry account for a large proportion in the economic structure, with nearly 80 percent of the population being farmers. The province has 86 out of 150 communes recognized as new style-rural areas, contributing to promoting development in rural areas.
Yen Bai has over 6,600 ha of "Bat do" bamboo trees, mainly in Tran Yen, Yen Binh, Luc Yen, Van Yen and Van Chan districts. Local people earn hundreds of billions of VND each year from the sale of bamboo shoots and bamboo products as raw materials for paper mills.
Nguyen Duc Dung, Director of Yen Thanh JSC said in order to well manage material areas, the firm's technical staff must coordinate with forest management forces in assessing the quality of bamboo forests through a satellite-based management system.
Local farmers have been provided with accurate and transparent information on the fertilizer volume they received each crop, and the volume of sold products along with selling prices. They can check relevant information by themselves, he added.
To meet strict regulations on the quality and traceability of products exported to Japan, batches of bamboo shoots are strictly supervised from the time of harvesting to processing and packaging.
Thanks to applying digital technology in production, the company annually exports more than 2,000 tonnes of products worth over 70 billion VND to Japan and Taiwan (China).
The Sustainable Forest Management and Biodiversity as a Measure to Decrease CO2 emissions" (KfW8) project has been implementing in Yen Binh district for 7 years and has proven effective thanks to the application of digital technology. It is being expanded to other localities in the province.
Local households participated in the project on a voluntary basis. The land use plan for each participating commune was approved by the district People's Committee. So far, Yen Binh district has 1,675 households participating in the project with a total area of 1,943 hectares.
Yen Bai boasts 78,000 ha of cinnamon, more than 220,000 ha of planted production forest , over 6,600 ha of Bat Do bamboo, nearly 10,000 hectares of medlar , nearly 8,000 ha of tea and nearly 1,000 ha of mulberry trees.
The application of digital transformation in agriculture development has helped improve efficiency of production and sale of farm produce, thus increasing the value of agro-forestry products of local farmers. This is also a prerequisite for new-style rural area building and poverty reduction schemes in remote, mountainous, and extremely difficult areas in Yen Bai.
Currently, Yen Bai's specialties such as Gioi Phien vermicelli, dried Muong fish with galangal, Thai Son red-skin peanut, Que Phat herbal dishwashing liquid, and Viet Son solanum procumbens glue, and dozens of other OCOP products have been sold on the e-commerce platform VOSO.VN.
This is a clear demonstration of digital transformation in agriculture development in Yen Bai.
Other news
Yen Bai province has collected over 765 billion VND from forest environmental service users to spend on activities related to forest protection, and forest capital development since the Payment for Forest Environment Services (PES) Policy was implemented.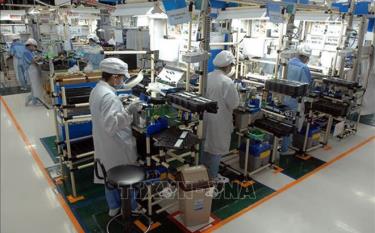 Despite COVID-19, foreign investors' new capital registered in Vietnam reached 22.15 billion USD in the first nine months, up 4.4 percent compared to the same period last year, as heard at the Government Portal's online conference held on September 27 with the participation of a number of localities housing foreign direct investment (FDI) projects.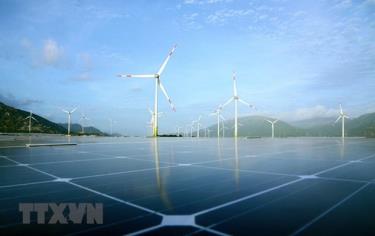 Vietnam has shown the world its capability to accelerate clean energy solutions, with the highest installed capacity of solar power in Southeast Asia and the government's commitment to boosting energy supply and strong public demand for improved air quality, the Malaysia-based Techwire Asia news website said in an article on August 19.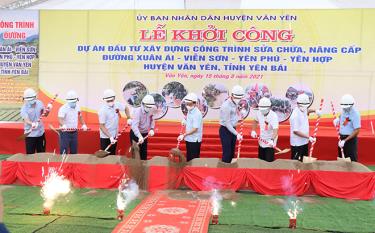 A project to repair and upgrade a road running through Xuan Ai, Vien Son, Yen Phu and Yen Hop communes in Van Yen district with a total investment of 75 billion VND (3.28 million USD) was launched last weekend.