"Entrepreneur Cafe" – bridge linking Yen Bai administration with businesses
YBO - To promote measures and policies for supporting businesses, the People's Committee of Yen Bai province has organised the monthly "Entrepreneur Cafe" programme since 2016.
Chairman of the provincial People's Committee Do Duc Duy replies to businesses' opinions at the "Entrepreneur Cafe" in June 2019.
The programme, under different topics each time it is held, serves an open forum for investors and companies to share opinions and discuss with authorities about ways to tackle difficulties and obstacles facing their production and business activities.
Since the first edition in July 2016, "Entrepreneur Cafe" has received hundreds of opinions which are mainly related to local and central agencies' mechanisms and policies, as well as the fields of natural resources, land, finance, taxation, agriculture, labour and insurance.
At the programme, leaders of the provincial People's Committee, departments, sectors and localities in Yen Bai have had open and straightforward discussion with firms to seek solutions to existing problems.
Tran Ngoc Dung, Director of the Hong Nam JSC based in Yen Bai city, said regardless of the organisation venue in the city or districts, he have participated in all events. Businesses have received appropriate replies from local authorities to each of their questions and opinions. For the issues within the officials' jurisdiction, they will be solved immediately while others will be submitted to officials at higher levels for settlement.
Aside from officials of Yen Bai and its departments and localities, leading experts have also been invited to "Entrepreneur Cafe" to field questions and disseminate new policies to entrepreneurs and businesses.
Bui Thi Suu, Director of the Hoa Binh Co. Ltd based in Yen Bai city, said thanks to the presence of experts in this programme, companies have had better understanding about many issues. Notably, experts explained new policies in a very concrete and comprehensible manner, helping firms further understand insurance, taxation and land policies.
Thanks to this programme and efforts to assist businesses, support policies for local small- and medium-sized enterprises have been implemented, and investment in industrial parks and clusters has been encouraged.
Besides, the province has also paid attention to assisting start-ups and creating favourable conditions for business households, especially large ones, to transform into companies.
As a result, more than 250 new companies were established in Yen Bai in 2019, raising the number of firms here to over 2,500. Ninety-five cooperatives were also set up in the province last year. Meanwhile, Yen Bai also approved in principle 55 investment projects with the total registered capital of over 17.2 trillion VND (735.3 million USD). Its industrial production value surpassed 12 trillion VND and exports topped 170 million USD.
The "Entrepreneur Cafe" programme has facilitated interaction and enhance cohesion between businesses and local authorities, said Chairman of the Business Association of Yen Bai province Tran Cong Binh.
Other news
Construction work on the Apec Golden Valley Muong Lo Tourism-Trade Urban Complex began in Pu Trang ward, Yen Bai province's Nghia Lo town on August 16.
Major Japanese enterprises are looking to buy Vietnamese IT firms through merger and acquisition (M&A) deals to expand production and business in the Southeast Asian country, reported Dau tu (Investment) newspaper.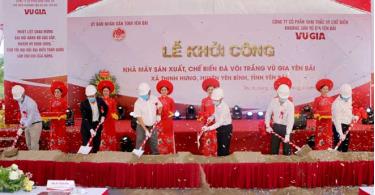 The Yen Bai People's Committee, in collaboration with Vu Gia Yen Bai Mineral Processing and Exploitation joint Stock Company, organised a ceremony to begin construction work at the Vu Gia Yen Bai white limestone project in Hop Nhat village, Thinh Hung commune, Yen Binh district on August 11.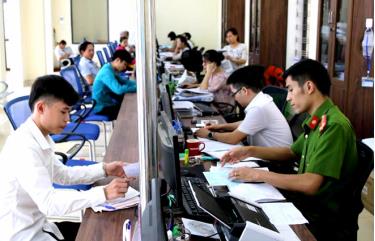 Van Yen district of Yen Bai province holds various advantages and room for growth, especially in geographical location, as it straddles in the Kunming-Lao Cai-Hanoi-Hai Phong-Quang Ninh economic corridor.