Yen Binh launches project on growing material forest, developing non-wood products
YBO - Since 2014, a project on planting industrial material trees and developing non-wood products spanning over 600 ha, invested by Tan Thanh An Construction and Trade Company, has been underway in Tien Phong village, Xuan Long commune, Yen Binh district.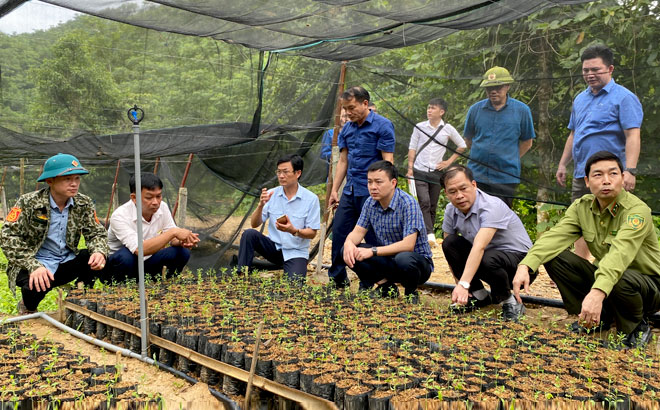 Leaders of Yen Binh district visit a nursery of Tan Thanh An Construction and Trade Company.
In the first year of the project, the company primarily planted acacia mangium. In 2019, following the exploitation of acacia forests, various types of trees like sandalwood, fragrant rosewood, cinnamon, and superlative trees, orchards, and herbal plants, among others, were grown on the land, covering 543.4 ha.
At present, the trees are growing well, especially sandalwood and cinnamon. The firm also maintains two nurseries with a combined capacity of nearly 3 million saplings, to meet forestation demand in the locality.
The project creates temporary and regular jobs for between 1,000 and 1,500 local workers, with an average monthly salary of 7.5 million VND per person.
Other news
Yen Bai authorities issued new registration licences for 147 businesses in the first six months while 24 enterprises were dissolved and 260 others stopped operations. Currently, there are 2,537 enterprises operating in the province.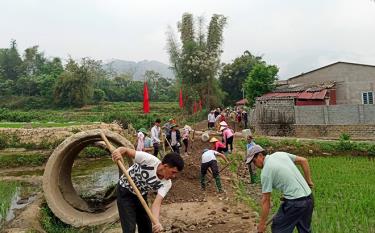 In 2021, Van Chan district in Yen Bai province is assigned to build 60km of rural roads, with a total estimated capital of 100 billion VND, 50 percent of which will be contributed by locals in the form of working days, construction materials, and machinery. To date, the district has completed 51 percent of the assigned plan.
Van Chan district is home to 4,490 ha of tea, including over 4,000 ha for commercial purpose. At present, Lien Son farm township has the largest tea area in Van Chan district with 500 ha.
Despite a wide range of difficulties caused by the COVID-19 pandemic, Yen Bai province successfully realised the dual goal in the first half of 2021. Many socio-economic criteria have exceeded 50 percent of the set targets and seen increases compared to the same period last year.