Yen Bai performs well in new-style rural building
Wednesday, December 2, 2020
YBO - Seventy out of 150 communes, or 46.67 percent of the total, in Yen Bai province have obtained the new-style rural status so far and the number was 200 percent higher than the target set by the province's 18th Party Congress, according to the provincial Department of Agriculture and Rural Development's rural development division.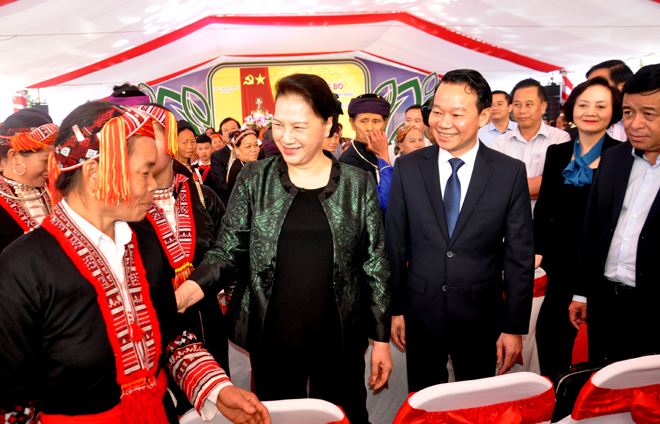 National Assembly Chairwoman Nguyen Thi Kim Ngan visits locals in Quang Minh commune and attends a ceremony to announce the completion of new-style-rural area criteria and the Great Unity Day Festival in the locality.
The new-style rural communes include ten extremely disadvantaged ones in the districts of Tran Yen, Van Chan and Tram Tau which have fulfilled all 19 required criteria.
This year, the communes of Tuy Loc, Au Lau and Minh Bao in Yen Bai city, the provincial capital, have earned the title while Tran Yen has become the first new-style rural district of the northwestern region.
The National Target Programme on New Rural Building has given a facelift to the province's rural areas, with local people's considerable behavioural changes from "spontaneous" to "voluntary" and from what they are required to do to what they want to do for themselves.
The changes have been reflected through the locals being enthusiastic in helping with site clearance, donating land for expansion of rural roads and making contributions to the construction of transport and environmental sanitation projects and house repair.
Local policies supporting the development of production and vocational training for rural workers have started proving effective. They have helped create jobs, raise incomes and enhance local living standards.
The programme has also facilitated local agricultural restructuring with a decreasing proportion of horticulture and increasing contributions of forestry and fisheries. Crop production value per hectare reached 65 million VND this year, 15 million VND higher than 2015. The figure even hit 250 million – 300 million VND per hectare even some areas.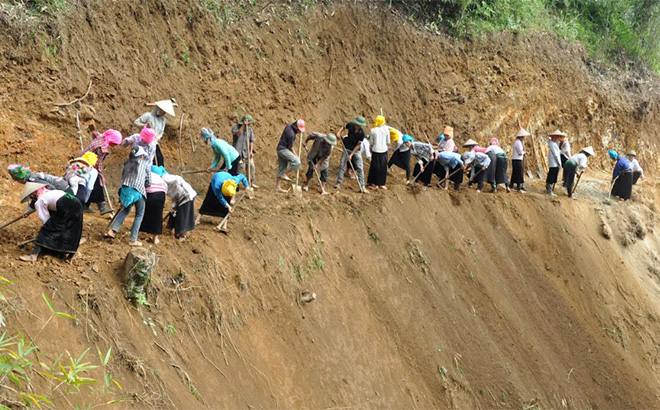 People in Hat Luu commune, Tram Tau district join to build rural roads.
Yen Bai is home to large-scale intensive farming areas of cinnamon (78,000 hectares), Bat Do bamboo shoots (over 6,600 hectares), Shan Zha (or fructus crataegi) (nearly 10,000 hectares), high-quality specialty rice (3,000 hectares), maize (15,000 hectares), fruits (close to 10,000 hectares), mulberry (nearly 1,000 hectares), and planted forest for wood material (more than 220,000 hectares). Nearly 130,000 cattle heads, over 2,600 hectares of fishery farms and 2,000 fish cages are also being intensively farmed.
The province has developed trademarks for ten local specialty and organic products under the "One Commune, One Product" (OCOP) programme, including Tu Le sticky rice, Shan Zha, organic Shan tea, black chicken, indigenous pig, Lam Thuong duck, organic cinnamon, Dai Minh pomelo, King orange and medicinal herbs.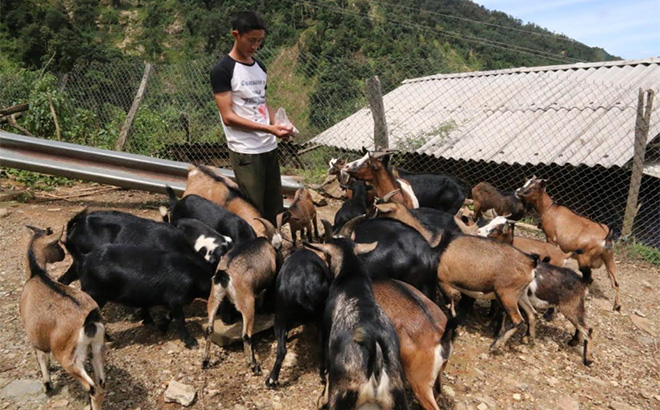 Commercial cattle farming helps raise income for people in mountainous communes.
Under Resolution of the 19th provincial Party Congress, Yen Bai sets to have 78 percent of the total communes meeting new-style rural standards and 10 percent earning the model new-style rural status over the next five years. The province also plans to recognise Van Yen and Yen Binh as new-style rural districts and to have 43 mountainous and extremely disadvantaged communes satisfying new-style rural standards, including one in Tram Tau, one in Mu Cang Chai, 10 in Van Chan, 10 in Van Yen, 13 in Luc Yen and 8 in Yen Binh.
Other news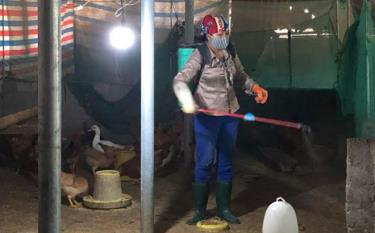 Avian influenza A/H5N6 was recorded in two households in Tran Yen district and Yen Bai city between January 25 and February 9, affecting a total 9,500 poultry which were either dead or culled.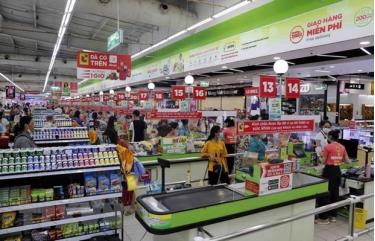 Despite a raft of difficulties facing Vietnam's retail market, economists and insiders are still optimistic about the outlook for the sector in the time ahead, according to the Vietnam Report JSC.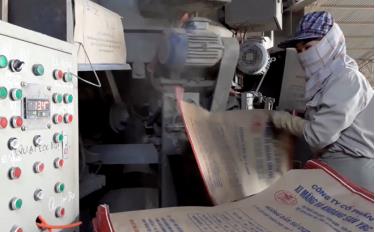 Yen Bai province is striving for a 9 percent growth in the local index of industrial production, and 14.2 trillion VND (617.41 million USD) in industrial production value in 2021.