Yen Bai city, Yen Binh district launch business associations
YBO - The business associations of Yen Bai city and Yen Binh district recently made their first public appearance, with the participation of 86 enterprises and cooperatives.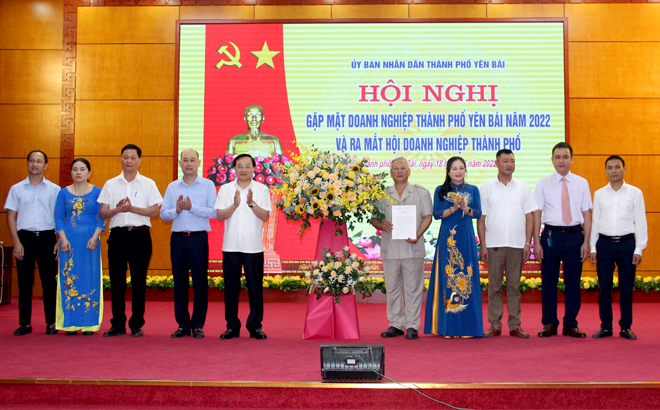 Leaders of Yen Bai city and the Business Association of Yen Bai province present flowers to congratulate the Business Association of Yen Bai city.
Under the motto of "Accompanying businesses and acting for businesses", Yen Bai city has made proactive moves to tackle difficulties and barriers, thoroughly deal with enterprises' opinions, and help enterprises and investors to access the local market and stay updated with information about socio-economic development policies and investment incentives.
In the first half of 2022, Yen Bai welcomed and had working sessions with seven firms intending to invest in the city. Twenty-two companies registered investment projects, five of which have been carried out and some others licensed or allowed to raise their investment capital.
The Business Association of Yen Bai city, comprising 56 member businesses and cooperatives, plans to have three - five new members each year.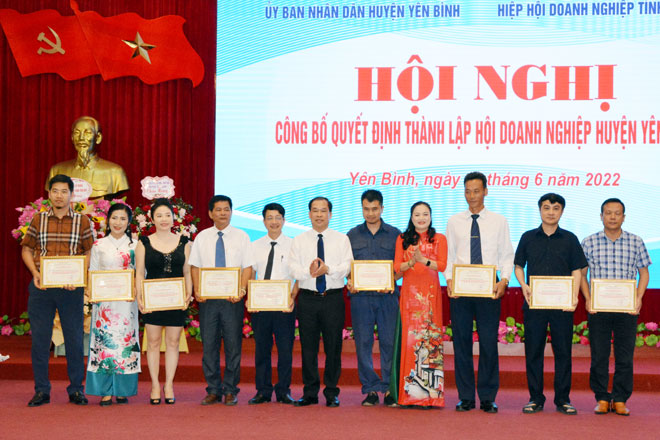 Chairman of the Yen Binh district People's Committee Nguyen Xuan Truong hands over the certificate to the local Business Association.
* Meanwhile, the Business Association of Yen Binh district with 30 member enterprises and cooperatives was also officially set up, coinciding with the 75th anniversary of the district Party organisation.
In recent years, the number of businesses operating in Yen Binh has increased continually, helping provide jobs for tens of thousands of local residents, contribute to the State budget collection, and guarantee social security.
Other news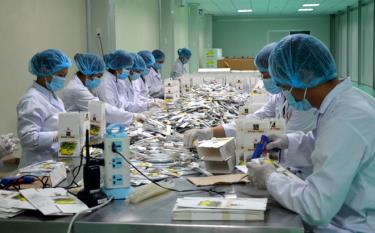 Yen Bai has four products named among 141 outstanding rural industrial products of 2022 in the northern region which were recognised recently.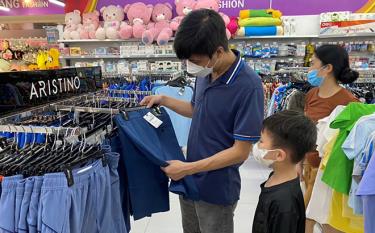 Yen Bai is seeing its economy recovering and growing, people's incomes increasing, and the market of gasoline prices and input materials gradually stabilising. The context is favourable for retail and service activities to prosper again.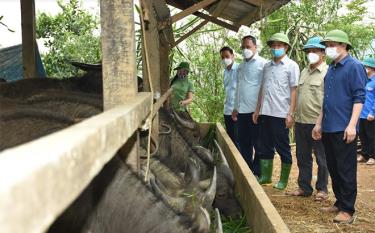 Over the years, Luc Yen district has focused on encouraging local residents to promote the potential and strengths of the locality and focus on developing commodity-oriented livestock. So far, many local farmers have switched their small-scale farming into larger one.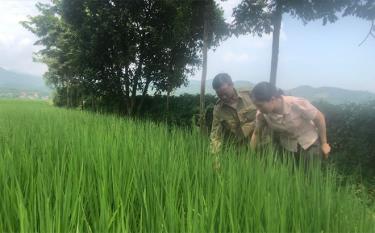 Farmers in Van Yen district planted 100 ha of ST25 rice variety in the four communes of Dai Phac (5 ha), Yen Phu (40 ha), An Thinh (5 ha) and Dong Cuong (50 ha) in the summer-autumn crop in 2022.