Mu Cang Chai hosts To Day flower festival for first time
Thursday, December 22, 2022
To Day is a flower species belonging to the peach blossom family. The H'Mong ethnic people in Mu Cang Chai district often call it "Pang to day" - forest peach blossom in Vietnamese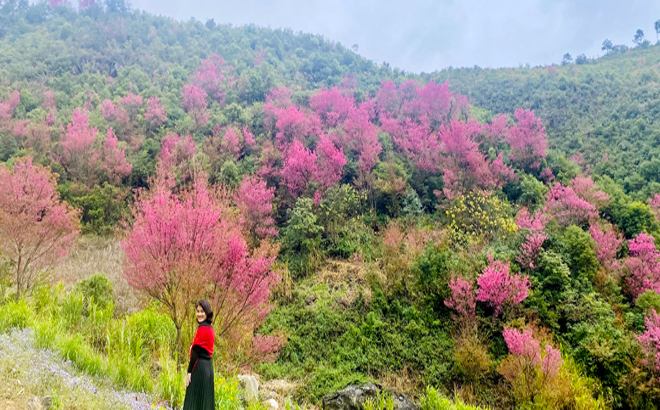 A To Day flower area in Mu Cang Chai
The tree mostly grows naturally in Nam Khat, Pung Luong, De Xu Phinh, Lao Chai, and Khao Mang communes, and especially La Pan Tan commune, along Nam Kim stream, Mu Cang Chai district. It has a strong vitality and only blooms in the cold of winter.
To Day flowers have become a special symbol of the lands of Mu Cang Chai in the harsh winter. Clusters of the red-pink flowers on hillsides create a beautiful scene.
This year, a To Day flower festival was held in Mu Cang Chai on December 24 with various cultural activities, including an art programme, a photo exhibition, and a hiking trip to explore To Day flower areas in Mu Cang Chai.
Other activities were tours to explore the beauty of the flower, a Mu Cang Chai spring market, an art programme to welcome the New Year 2023, and a Banh day making festival.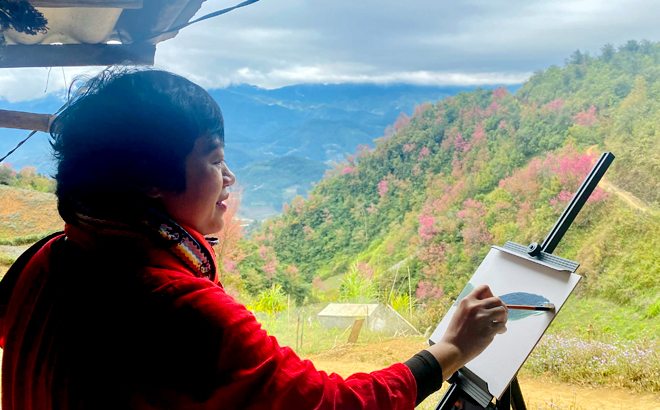 A painting of To Day flowers.
The event offered a chance for visitors to experience attractive tourism services, and join traditional sports and folk games of Mong people such as walking on stilts, tug of war, bag jumping, Con throwing, and Khen dancing.
The Mu Cang Chai district's authority aims to promote four-season tourism in the locality through exploiting its strengths and new tourism products.
The locality has focused on conserving the pure natural beauty, limiting concretization by promoting the development of homestays which can provide many tourism services and products; and preserving the cultural identity of Mong people, in its roadmap to develop into a tourist district by 2025.
Other news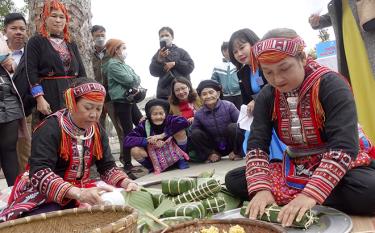 As part of the third "Coming to the Land of Gems" tourism programme in Luc Yen district, Yen The township recently hosted a wide range of activities, including 'chung' cake wrapping and red-whiskered bulbul singing contests, and folk games such as spinning tops, blind man's buff, and 'danh yen' which is considered badminton of the local ethnic minority group.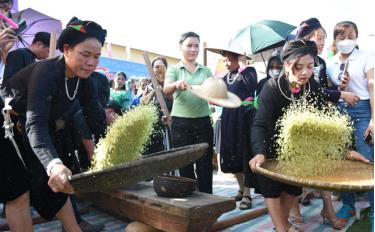 The third "Coming to the Land of Gems" tourism programme is taking place in Luc Yen district from December 2 to 4.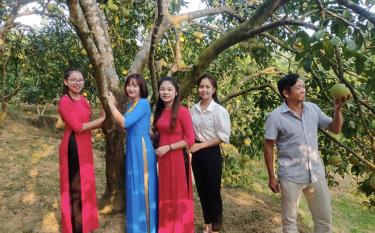 Dai Minh grapefruit, which was once used to be offered to the king, has become a specialty and also a pride of Dai Minh commune in particular and Yen Binh district in general.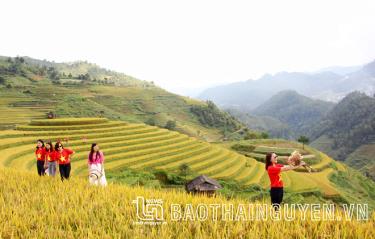 Thanks to the flexible application of measures to stimulate tourism demand, Yen Bai tourism industry has achieved impressive results in the first eight months of this year. The number of visitors to the province was up 103% year-on-year while tourism revenue also increased by more than 152% over the same period last year.