Mong people's brocade weaving in Mu Cang Chai district
Friday, February 28, 2020
YBO - The Mong people in Mu Cang Chai district, the northern province of Yen Bai, have many unique customs, with brocade being one of the attractive cultural features.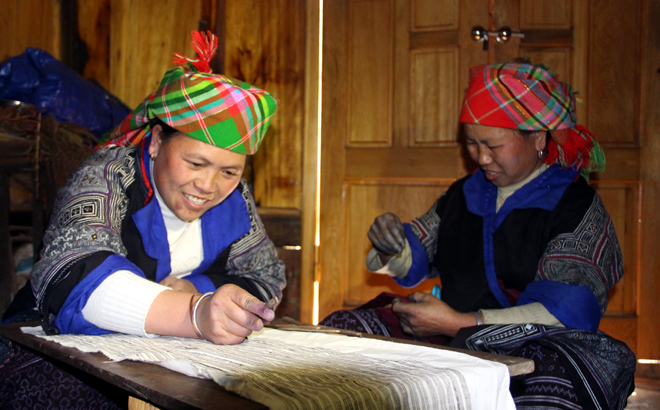 Wax painting to create patterns on brocade fabrics. Photo Minh Huyen
The trade has long been associated with the daily life of the Mong people here and passed down from generations to generations, imbued with unique culture of Mong women.
The creation of special brocade products or costumes takes many stages requiring meticulous skills such as planting flax, spinning yarn, wax printing, indigo dyeing and embroidery.
Every March and April, Mong people here start planting flax and harvest it in July and August. They later dry out flax in the sun and then strip them into yarn.
Flax yarn is then softened, rolled, and washed.
Later, yarn is boiled until it become soft and white, and then sundry. A reel is used to split threads before being they are put in the loom.
After weaving, Mong women will use copper pens to draw. The wax-printed fabric will be dyed with indigo. When dark-coloured fabric is dipped into boiling water, wax will melt out leaving blue patterns. They later do embroidery.
Patterns on Mong costumes are mainly geometric such as blocks of squares, rectangles and rhombus, that is why it takes a lot of time.
The job requires craftsmanship, diligence and is a criterion for evaluating talents, virtues and ways of doing business of Mong women.
Once completed, brocade products are decorated with different patterns and motifs in main colours such as white, red, yellow, green and purple.
In the past, their brocade products were mainly used for personal or family need, and as dowry for girls when they get married.
Today, brocade skirts, shirts, scarves and phone bags have become popular with domestic and foreign tourists.
Luong Thi Xuyen, Vice Chairman of the district People's Committee, said the district is setting brocade weaving as a tourism product in the locality.
In the near future, the district will continue a scheme to provide modern machinery, thus improving capacity of local residents and setting up more cooperatives and business households in the field.
At the same time, it will encourage locals to expand the cultivation of flax alternated with corns, and invest more in looms to attract more tourists, as well as enhance trade promotion activities to expand markets.
Other news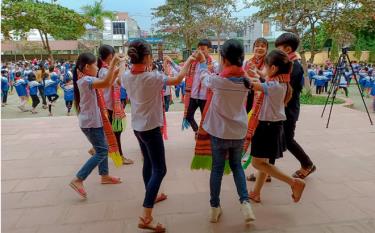 In the 2013-2014 academic year, the Education and Training Department of Nghia Lo town built a model to preserve and uphold local culture identities in schools. The model has been implemented in all schools in the town, focusing on promoting extra-curriculum educational activities.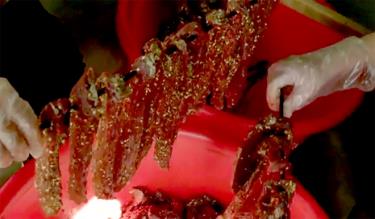 Your Vietnam experience won't be complete without nhau, eating and drinking for no particular purpose. Nhau, in turn, won't be complete without smoked buffalo.
The northern province of Yen Bai has approved a survey and proposal on the measurement of local people's Happiness Index.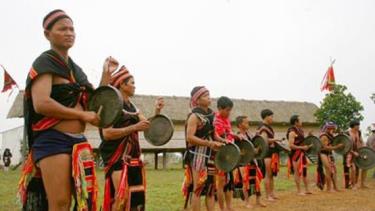 A series of cultural activities in celebration of the 130th anniversary of President Ho Chi Minh's birthday (May 19) will be held at the Cultural Village of Vietnamese Ethnic Minority Groups in Dong Mo commune, Son Tay district in the outskirts of Hanoi from May 4-31.