Seminar talks developing Mu Cang Chai tourism
YBO - The People's Committee of Mu Cang Chai district recently held a seminar collecting opinions on a project on building Mu Cang Chai into a tourist district during the 2021-2025 period, with an orientation to 2030.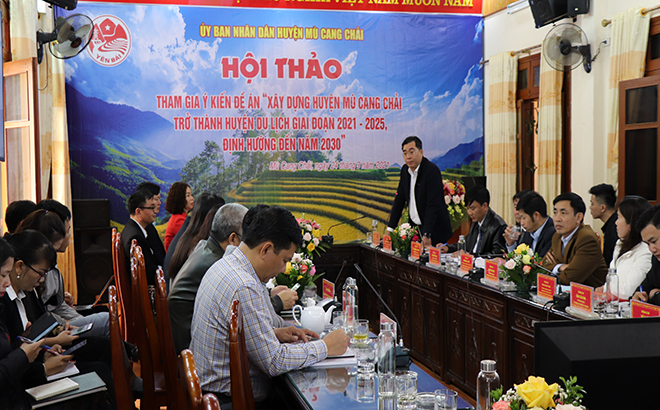 Overview of the conference
As a mountainous district, Mu Cang Chai holds great potential of developing tourism with many attractions such as Mu Cang Chai terraced field recognised as a special national relic, Che Tao Species/Habitat Conservation Area, Khau Pha mountain pass, Nam Khat valley, Pung Luong peak, together with special cultural identity of Mong and Thai ethnic groups. The US's CNBC broadcaster also listed Mu Cang Chai at the top of travel list 2020 in Vietnam.
The district gradually offered special tourist products, especially those tapping terraced fields.
To fully tap potential and strengths, especially terraced fields, the local project aims to develop green, cultural identity, safe and friendly tourism. Tourism is expected to basically become a pillar economy of the locality by 2025, a true pillar economy by 2030. Mu Cang Chai is to be a tourism district and one of the top destinations in the northwest of Vietnam.
To such end, Mu Cang Chai will strengthen transport connectivity with Hanoi, tourist and urban centres, step up tourism development planning, tap domestic market with the development of suitable products such as weekend, festival and community tourism.
The district will pay attention to tapping and developing sport, adventure, historical – cultural tourism, and new products such as ecological and agriculture tourism.
It will attach importance to developing tourism infrastructure and human resources, popularising special national relic Mu Cang Chai Terraced Field and Che Tao Species/Habitat Conservation Area.
Delegates suggested measures to build Mu Cang Chai into a tourist district in the coming time, focusing on developing tourism in combination with environment protection and sustainable livelihoods for local residents, tapping new rice festival of Mong ethnic people in Mu Cang Chai which has been recently recognised as a national intangible cultural heritage by the Ministry of Culture, Sports and Tourism, and architecture culture of Mong ethnic people.
Other news
Amid the complicated developments of COVID-19 pandemic, in order to protect the "green zone" status for the province, Yen Bai has restricted locals from traveling outside the locality as well as people from other localities from entering the province. Many local families have chosen to visit sites in the province to ensure safety and enjoy their vacations in weekends.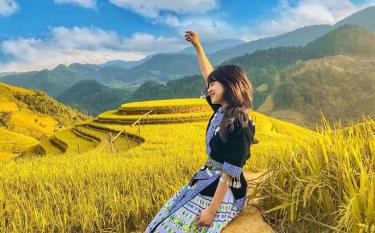 La Pan Tan tray-shaped hill is located about 8km from the centre of Mu Cang Chai district. It is about 1000 – 1600 metres above sea level. The name of the hill might result from the fact that it looks like a tray.
Nghia Lo town of Yen Bai province has launched a contest to seek designs of tourism symbol for the town.
Luc Yen district has set targets to develop green tourism into an important economic sector, create various quality tourism products and become one of the province's outstanding destinations in the 2020-25, thereby building the brand of "Luc Yen-where colours converge".