Mu Cang Chai Hawthorn Flower Festival to take place on March 18-19
YBO - In order to enrich tourism products to attract visitors, Mu Cang Chai district of Yen Bai province will coordinate with Muong La district of neighbouring Son La province to organise the 2023 Hawthorn Flower Festival on March 18 and 19.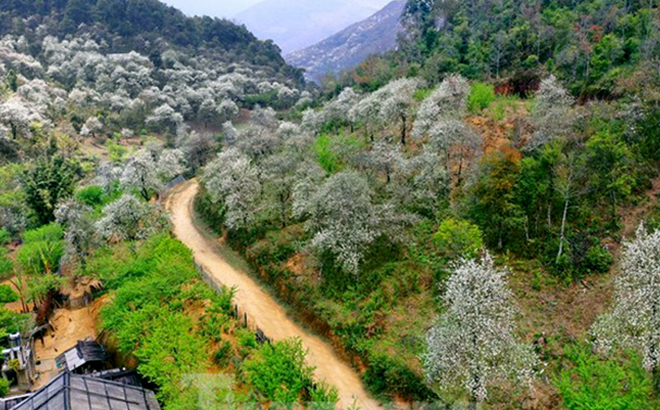 The best places to contemplate hawthorn flowers in Mu Cang Chai district are Nam Khat, Lung Cung, Hang Gang, Hu Tru Linh, and Trong Tong.
The festival will comprise a wide range of activities such as an art programme to open the festival, a 'banh day' (round sticky rice cake) making contest, folk games, a photo exhibition featuring the beauty of Mu Cang Chai, booths showcasing OCOP (One Commune One Product) products, and paragliding experience.
Visitors can also experience tours connecting Son La's Muong La, Lao Cai province's Sa Pa, and Yen Bai's Tram Tau and Van Chan with Mu Cang Chai.
Hawthorn - unique tree species in Mu Cang Chai mountainous district.
The best places to contemplate hawthorn flowers in Mu Cang Chai district are Nam Khat, Lung Cung, Hang Gang, Hu Tru Linh, and Trong Tong. Visitors can also visit the Mong ethnic group's villages, De Xu Phinh pine hills and Che Tao primeval forest; conquer Lung Cung mount peak and Dinosaur spine, and watch sunrise and sunset at tourism sites.
The festival is organised to realise contents of linkages and cooperation in agricultural and tourism development associated with ethnic culture preservation in accordance with the Memorandum of Understanding No. 01 dated November 4, 2022 of the Party Committees of Muong La, Bac Yen, Mu Cang Chai, Tram Tau and Van Chan districts.
It also aims to honour the beauty of hawthorn flowers in Nam Nghiep hamlet in Ngoc Chien commune; promote tourist attractions to contemplate this kind of flower in Nam Khat, Nam Co, Lao Chai and La Pan Tan communes of Mu Cang Chai district, thus creating a supply chain of tourism products, forming open tours inside and outside the province, and contributing to attracting more visitors.
Other news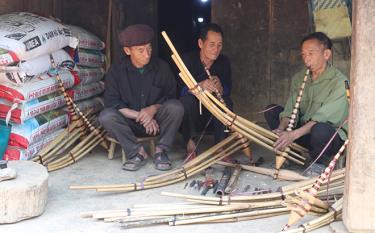 Along with beautiful natural landscapes, Mu Cang Chai district of Yen Bai district is also home to the unique cultural identities of Mong and Thai ethnic minority groups, and various traditional values of local communities' traditional customs, festivals, crafts, costumes and cuisine.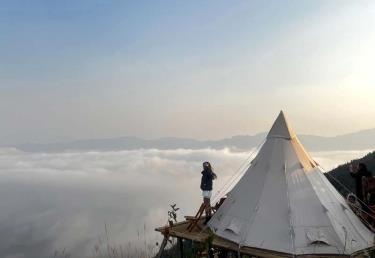 Camping has been chosen by many young people for their holidays over the recent years. In anticipation of that trend, some businesses and individuals in Yen Bai province have set up campsites to take full advantage of natural landscapes and attract tourists to the locality.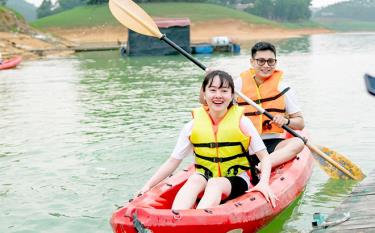 The northern province of Yen Bai welcomed over 121,000 visitors during the five-day holidays from April 29 to May 3, an increase of 70.2% compared to that the same period last year.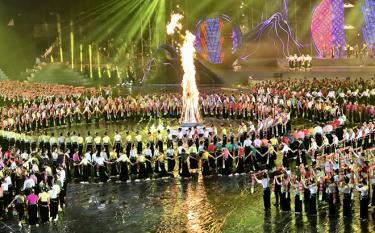 With diverse and unique potential, Yen Bai is a famous tourist destination in the north, as it welcomes millions of visitors every year. In addition to pristine landscapes and attractive indigenous cultures, the western localities of the province have launched many new and attractive tourism products for the five-day national holiday of Hung Kings Commemoration Day, National Reunification and May Day.