Mu Cang Chai hosts To Day flower festival for first time
Thursday, December 22, 2022
To Day is a flower species belonging to the peach blossom family. The H'Mong ethnic people in Mu Cang Chai district often call it "Pang to day" - forest peach blossom in Vietnamese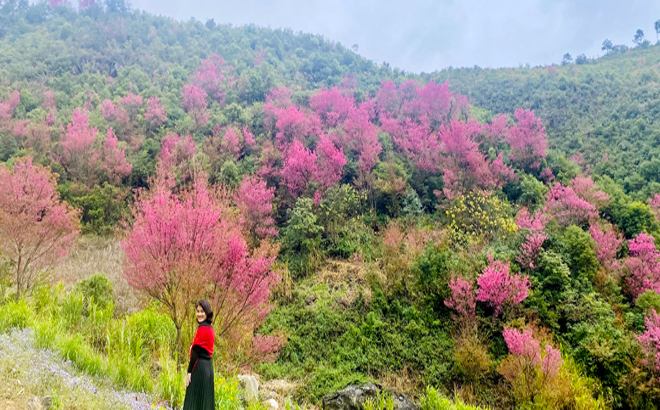 A To Day flower area in Mu Cang Chai
The tree mostly grows naturally in Nam Khat, Pung Luong, De Xu Phinh, Lao Chai, and Khao Mang communes, and especially La Pan Tan commune, along Nam Kim stream, Mu Cang Chai district. It has a strong vitality and only blooms in the cold of winter.
To Day flowers have become a special symbol of the lands of Mu Cang Chai in the harsh winter. Clusters of the red-pink flowers on hillsides create a beautiful scene.
This year, a To Day flower festival was held in Mu Cang Chai on December 24 with various cultural activities, including an art programme, a photo exhibition, and a hiking trip to explore To Day flower areas in Mu Cang Chai.
Other activities were tours to explore the beauty of the flower, a Mu Cang Chai spring market, an art programme to welcome the New Year 2023, and a Banh day making festival.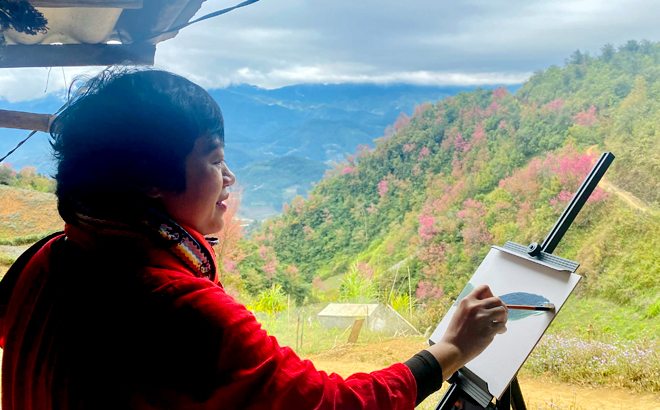 A painting of To Day flowers.
The event offered a chance for visitors to experience attractive tourism services, and join traditional sports and folk games of Mong people such as walking on stilts, tug of war, bag jumping, Con throwing, and Khen dancing.
The Mu Cang Chai district's authority aims to promote four-season tourism in the locality through exploiting its strengths and new tourism products.
The locality has focused on conserving the pure natural beauty, limiting concretization by promoting the development of homestays which can provide many tourism services and products; and preserving the cultural identity of Mong people, in its roadmap to develop into a tourist district by 2025.
Other news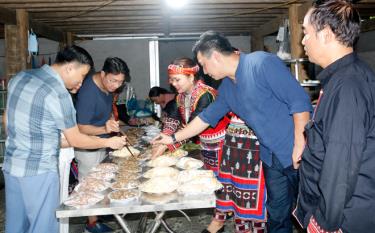 In recent years, Van Yen district of Yen Bai province has focused on preserving culinary cultural values in association with developing tourism, contributing to luring more and more visitors to the locality.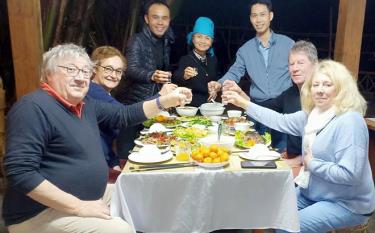 The western area of Yen Bai province boasts a lot of attractive destinations for tourists, including Mu Cang Chai terraced fields, Tram Tau hot mineral springs. A feature that lures visitors is the local rich and unique cuisine culture.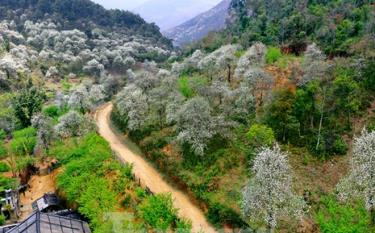 In order to enrich tourism products to attract visitors, Mu Cang Chai district of Yen Bai province will coordinate with Muong La district of neighbouring Son La province to organise the 2023 Hawthorn Flower Festival on March 18 and 19.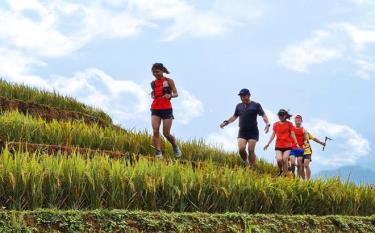 Over recent years, sports tourism has been introduced into Vietnam and is gaining popularity in the Southeast Asian nation. Yen Bai province has grasped the opportunity, especially the "golden" period, to recover the local tourism sector. The province has seriously invested in sport tourism, making it an impulse to attract more visitors.