A homestay owner on Ta Chi Nhu Mountain
YBO - Anyone who wants to "hunt clouds" on Ta Chi Nhu Mountain, the eighth highest mountain in Vietnam, can make their intention come true more easily with the support of a homestay there. This is also the startup idea of Mua A Do, a Mong ethnic man who has yet to reach the age of 30.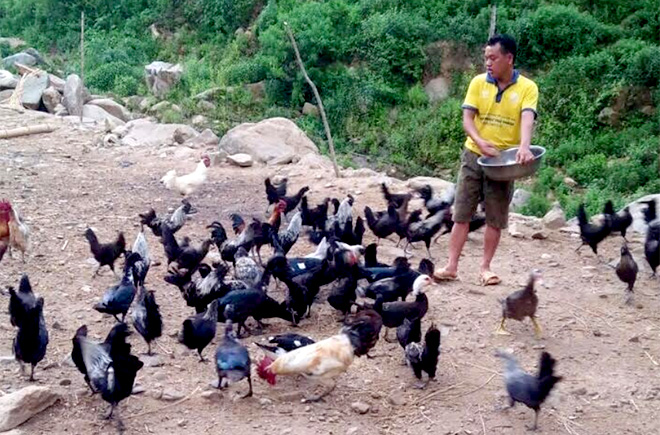 The black chicken farming model of Mua A Do has proved fruitful.
Born in 1993 in Xa Ho commune of Yen Bai province's Tram Tau district, Do was among the few local young people undergoing professional training, and worked for a State agency for some time. However, learning about some persons who started their business with animal husbandry, he decided to leave the job he had done for more than three years to set up a farm of the Mong people's indigenous black chickens.
Thanks to persistent efforts despite failures, his farm is currently raising over 1,000 chickens, generating a monthly income of nearly 10 million VND (over 430 USD) for his family. In 2018, when Do opened the farm, he also borrowed money to build a homestay facility on Ta Chi Nhu Mountain.
He said: "In recent years, tourism in Tram Tau has developed very well. A group of tourists from Hanoi has hired me to show them the way to climb Ta Chi Nhu Mountain. Visitors from lowland areas are very interested in mountaineering and cloud hunting."
Do built a homestay facility on this mountain where he also provides tour guide, accommodation as well as food services, and food for tourists is sourced right from his chicken farm.
Ta Chi Nhu is a challenge for anyone wishing to conquer it as this mountain features hard-to-access terrain and harsh climate and has no residents. The only way to deliver building materials to this mountain is carrying them on people's backs to overcome steep and slippery slopes with abysses underneath. A homestay facility on Ta Chi Nhu Mountain is a bold idea admired by others.
The plain homestay can house up to 45 people per night, making it more convenient for travellers to continue their trips without having to bring along tents or blankets.
Do said he charges each visitor only 50,000 VND per night for accommodation and 100,000 VND per day for food. Most tourists come on the weekend.
Before the COVID-19-induced social distancing period, he guided about two tourist groups, about 20 – 30 members each, almost every weekend, he said, adding that earning his livings from the hometown and introducing the Mong ethnic minority's culture to travellers are incomparable happiness to him.
The young man has managed to seize opportunities, think big and act bold to make use of his enthusiasm, wisdom and creativity to bring his hometown Tram Tau closer to visitors from far and wide.
Other news
Amid the complicated developments of COVID-19 pandemic, in order to protect the "green zone" status for the province, Yen Bai has restricted locals from traveling outside the locality as well as people from other localities from entering the province. Many local families have chosen to visit sites in the province to ensure safety and enjoy their vacations in weekends.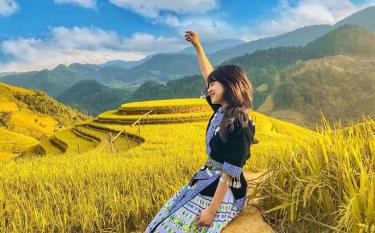 La Pan Tan tray-shaped hill is located about 8km from the centre of Mu Cang Chai district. It is about 1000 – 1600 metres above sea level. The name of the hill might result from the fact that it looks like a tray.
Nghia Lo town of Yen Bai province has launched a contest to seek designs of tourism symbol for the town.
Luc Yen district has set targets to develop green tourism into an important economic sector, create various quality tourism products and become one of the province's outstanding destinations in the 2020-25, thereby building the brand of "Luc Yen-where colours converge".