Education and training sector in Van Yen district follows Uncle Ho' examples
YBO - Over the past years, the promotion of studying and following President Ho Chi Minh's moral examples has attracted the participation of officials and teachers of schools in Van Yen district, Yen Bai province.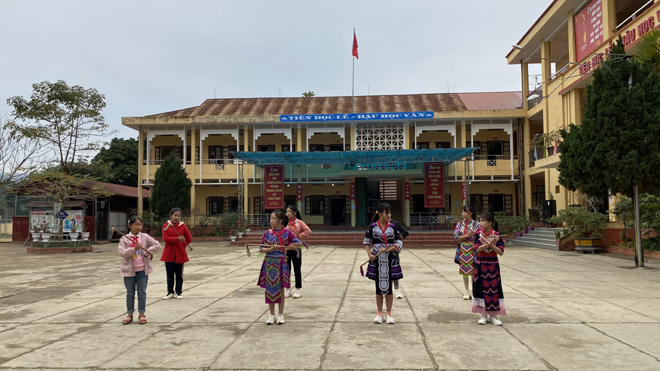 A folk dance practice by students of Lang Thip Semi-boarding Primary and Secondary School for Ethnic Minorities in Van Yen district.
To make it effective, the district's Division of Education and Training has focused on directing schools consider studying and following Uncle Ho's moral examples a regular task of each party cell, each school and each cadre, party member, and teacher in the sector, associating with the implementation of the campaign "Each teacher is an example of morality, self-study and creativity".
At the same time, the education sector has ordered the implementation of the campaign to write articles and literature works with the theme "Study and follow Ho Chi Minh's thought, morality and lifestyle" in the 2016-2020 period which was launched by the provincial Department of Education and Training. More than 1,300 entries were submitted and the organiser presented an A prize, a B prize and a C prize.
Van Yen district's Division of Education and Training received excellent result and was awarded a certificate of merit by the provincial Party Committee's Board for Information and Education.
The division also actively participated and won high prizes in competitions organised by the district's Party Committee such as the Competition of the Good Party Secretary, the Contest on Storytelling about Uncle Ho and the exemplary model of studying and following Uncle Ho.
Implementing the plan of the district's Party Committee on building and multiplying models and examples in Van Yen district' movement on studying and following President Ho Chi Minh's thought, morality and lifestyle in the 2017-2020 period, the Division of Education and Training has introduced three collective models and four outstanding examples. Of which, Chau Que Ha Semi-boarding Secondary School for Ethnic Minorities was presented a Certificate of Merit by the Chairman of the provincial People's Committee.
The managers and teachers have participated in building schools and teaching effectively. The study of students was associated with learning about local history, culture and environmental protection.
Schools have taken responsibility for caring for five historical and cultural relics at national and provincial levels; four monuments and martyrs' cemeteries; two Vietnamese heroic mothers and 56 families of war invalids and martyrs and those who have great contributions to the national revolutionary cause.
The teachers have constantly self-studied, practiced, actively applied information technology in teaching to improve their political theory and professional skills with many initiatives, helping to enhance education quality such as "Some solutions to improve the efficiency of school inspection in Van Yen district", "Some measures to manage the cooking at boarding and semi-boarding schools" , "Experience in encouraging students to go to class and preventing school drop-out".
As a result, the quality of comprehensive education has been improved and developed. The teaching of life skills for students has become more popular. Many students have won high prizes in the competitions for excellent students and talent contests for gifted students at provincial and national levels. All communes and townhips in the district meet national standards for universal education and eradicate illiteracy. Over 40 percent of schools reach national standards.
Other news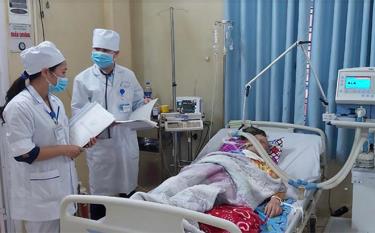 According to Yen Bai province's Social Insurance Agency, the local Health Insurance Fund pays 600-800 billion VND for medical examination and treatment each year. In many cases, patients are paid up to hundreds of millions of VND for a course of treatment.
The Women's Union in Van Yen district has been implementing a campaign on building hygienic habits for families initiated by the Vietnam Women's Union (VWU) Central Committee alongside another on building civilised lifestyle in urban and rural areas, with encouraging results.
Nearly 226,000 students in Yen Bai province officially began the 2021 - 2022 academic year on September 5 morning.
In the four waves of COVID-19 infections, the awareness, sense of responsibility, and self-consciousness of each people are an important factor helping Yen Bai province succeed in combating the pandemic so far.