Nguyen Tat Thanh High School for the Gifted ready to welcome first sixth graders
YBO - In realising its roadmap to become a high-quality school in the system of high schools for gifted students of the country in the 2021-2025 period, Nguyen Tat Thanh High School for the Gifted in Yen Bai will for the first time recruit students for sixth grade with 80 students in two classes in the 2021-2022 academic year.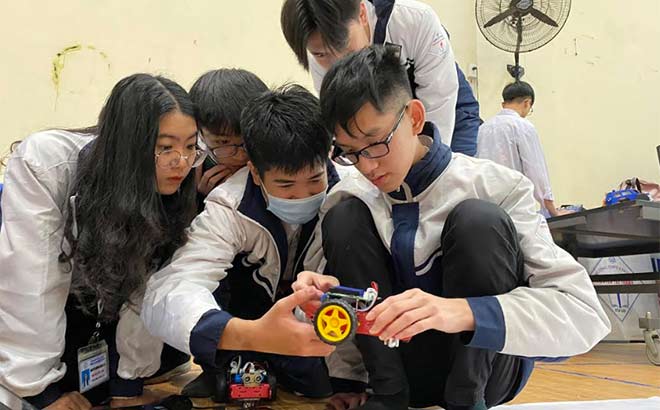 Students of Nguyen Tat Thanh High School for the Gifted with the creative project of inventing auto-tracking cars.
As many as 300 fifth graders from primary schools across Yen Bai city and neighbouring districts can sit for exams to be enrolled in the school. The location of testing will be announced in late June. In order to prepare for welcoming the new students, the school has made plans to arrange equipment and teachers for the classes.
Currently, the school has designated two available classrooms for the two classes in the first school year. New classrooms are scheduled to be built later on.
Right from the second trimester of the 2020-2021 school years, teachers assigned to teach the sixth grade next year began to get acquainted with the grade's curriculum through attending classes in other junior high schools in Yen Bai city and holding discussions with their peers in these schools.
The project of developing the Nguyen Tat Thanh High School for the Gifted in the 2021-2025 period sets a target of expanding its scale to 35 classes with 1,265 students in 2025, and piloting opening classes at junior high education level from the 2021-2022 school year with an initial two classes for sixth grade with 80 students. The school aims to have at least 60 percent of students attending national contests for outstanding students winning prizes, and have representatives in the national teams competing in regional and international Olympiads. The school expects 70 percent of its students achieving good academic performance, along with 70 percent of 12th graders having English certificates of at least level three or equivalent.
Alongside, 100 percent of students of English-majored classes are expected to have IELTS 6.0 (or equivalent international certificate) or higher; while 100 percent of students in the Chinese specialised class are hoped to have a Chinese certificate of level 3 or higher; 98 percent of students are expected to pass the university entrance exams, and 50 percent of students are to enter top universities in the country.
For teachers, the school aims to have over 55 percent of teachers holding masters' degrees, and at least one teacher having a doctorate degree, along with 100 percent of English teachers having IELTS 6.5 (or equivalent international certificate). Meanwhile, 70 percent of teachers of natural sciences are expected to be able to deliver lessons in English.
Other news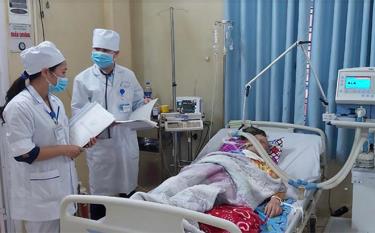 According to Yen Bai province's Social Insurance Agency, the local Health Insurance Fund pays 600-800 billion VND for medical examination and treatment each year. In many cases, patients are paid up to hundreds of millions of VND for a course of treatment.
The Women's Union in Van Yen district has been implementing a campaign on building hygienic habits for families initiated by the Vietnam Women's Union (VWU) Central Committee alongside another on building civilised lifestyle in urban and rural areas, with encouraging results.
Nearly 226,000 students in Yen Bai province officially began the 2021 - 2022 academic year on September 5 morning.
In the four waves of COVID-19 infections, the awareness, sense of responsibility, and self-consciousness of each people are an important factor helping Yen Bai province succeed in combating the pandemic so far.