Leaders of Yen Bai city, Van Yen district engage in dialogues with local youngsters
YBO - The Chairman of the People's Committee of Yen Bai city has held a dialogue with local youngsters on the topic of "city youth joins hands in building new-styled rural areas, civilised urban areas, boosting economic development and charity activities for the community".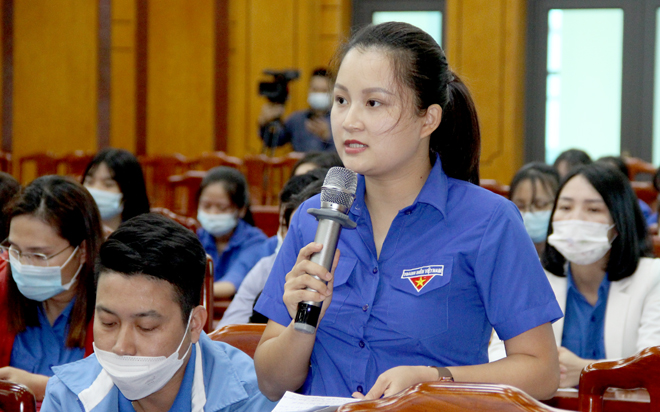 Members of the Ho Chi Minh Communist Youth Union of Nam Cuong ward of Yen Bai city expressed hope for policies supporting youngsters in agricultural development in the time to come.
On a straightforward, democratic and open spirit, local youngsters pointed out obstacles facing them in implementing the Party's policies and State's law regarding youth affairs. They also presented ideas, recommendations and proposals on different issues such as education on the revolutionary ideology, ethics and lifestyle for youngster, training of young officials, development of agriculture, support to youngsters in start-up, as well as measures to enhance foreign language skills for members of the Ho Chi Minh Communist Youth Union.
The youngster also proposed ideas on ways to promote the youth's role in the building of new-style rural and civilised urban areas, economic development and charity activities for the community. They suggested that authorised agencies build and complete mechanisms and policies for youth development, along with measures to improve the enforcement and efficiency of State management on youth affairs.
Earlier, the People's Committee of Van Yen district also held a dialogue on the theme "Van Yen youth with start-up and carrier building".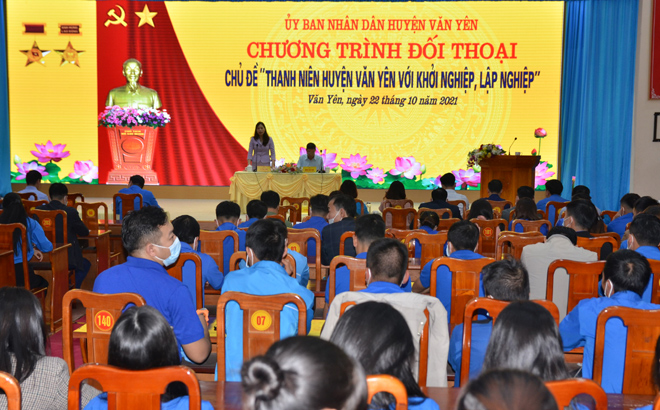 The dialogue themed "Van Yen youth with start-up and carrier building activities" was held on October 22.
Van Yen is home to 58 cooperative groups, nine cooperatives and eight businesses led by youngsters, along with 189 models of youngster developing economic production with income of 100 million VND per year each, creating jobs for over 500 local labourers.
Participants also mentioned matters regarding the access of information, science and technology for production and breeding, vocational training and job creation for youngsters, and solutions to assist new and existing cooperatives to overcome difficulties, especially amid COVID-19 situation.
Other news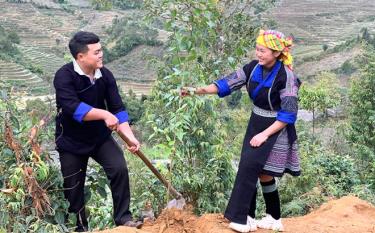 The "Happy village" model was formed in De Xu Phinh commune, Mu Cang Chai district, to encourage residents to abide by the guidelines and policies of the Party and State as well as village regulations, while supporting each other in economic development, thus raising the happiness index for local people.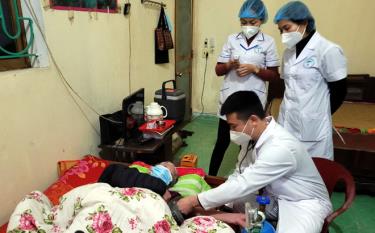 Medical stations in Yen Bai province have actively raised public awareness of fighting winter-spring diseases that potentially cause food poisoning, enhanced epidemiological supervision, especially the COVID-19 pandemic in towns, wards and communes.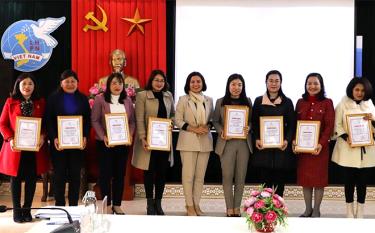 A contest highlighting Yen Bai women's meaningful activities drew more than 6,400 interactions, nearly 1,900 comments and over 1,900 shares of entries.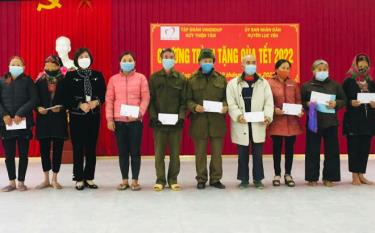 On January 10, VinGroup's Thien Tam Fund, in collaboration with the provincial Fatherland Front and relevant units, presented 1,000 gift packages, worth 600,000 VND each, to poor households in 23 communes of Luc Yen district ahead of Tet (the traditional Lunar New Year) holiday.