Yen Bai strengthens control measures at medical quarantine checkpoints
YBO - Vice Chairwoman of the Yen Bai Provincial People's Committee Vu Thi Hien Hanh requested strengthening a number of COVID-19 prevention and control measures to strictly monitor people entering the province while inspecting medical quarantine checkpoints.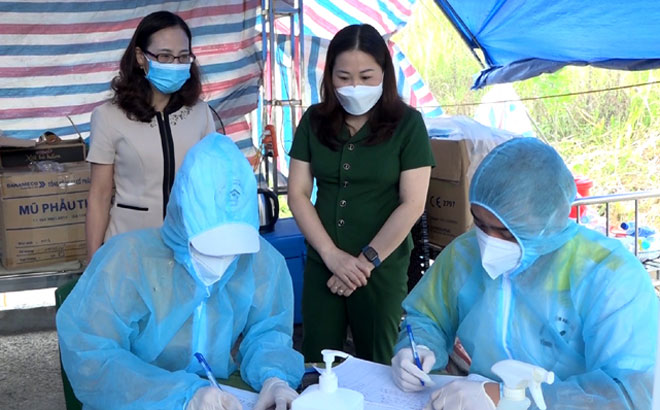 Vu Thi Hien Hanh, Vice Chairwoman of the Provincial People's Committee, inspects the entering of health declaration data at checkpoint No. 1 at IC12 intersection.
Through inspections at checkpoint No. 1 at the IC12 intersection on Noi Bai - Lao Cai highway and checkpoint No. 6 in Minh Quan commune, Tran Yen district, it could be seen that competent forces at the checkpoints have made great efforts to overcome difficulties and strictly perform assigned tasks in pandemic prevention and control such as receiving health declarations, taking samples for quick COVID-19 tests, and separating lanes for incoming vehicles.
Drivers have strictly complied with the epidemic prevention and control requirements of the forces. However, as the traffic volume has increased, while there is a small number of staff, leading to traffic jams and other problems.
Hanh, who is also Standing Deputy Head of the provincial Steering Committee for COVID-19 Prevention and Control, asked authorities to increase medical workers to take samples for COVID-19 testing at a number of health quarantine checkpoints, and work closely together to prevent and handle cases of drivers or assistants who refuse to make health declarations or intentionally make dishonest declarations, or decline to have samples taken for quick COVID-19 testing.
The checkpoints were requested to make recommendations and provide leaflets to raise public awareness of pandemic prevention and control.
Other news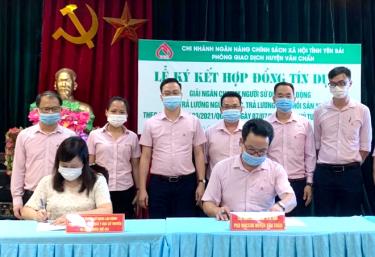 The fourth wave of COVID-19 pandemic has been causing large-scale impacts, thus hindering the sale of advantageous products of enterprises in the province such as pressed wood, tea, tapioca starch, porcelain insulators and stone powder. The endurance of local enterprises operating in tourism, catering, accommodation and transportation has also reached their limits when they have to suffer long-lasting, smoldering negative impacts.
Leaders of some sectors in Yen Bai province and 500 delegates in 400 places nationwide attended a webinar on September 9 to discuss the enhancement of Vietnam - Africa agricultural cooperation for common sustainable development.
The second Vietnam Summit in Japan is set to be held virtually on November 20-21 under the endorsement of the Embassy of Vietnam in Japan and the Vietnam National Innovation Center (NIC).
Two products of Yen Bai province have been named among outstanding industrial products in rural areas this year of the country.