Hung Khanh develops Bat Do bamboo shoot farming zone
Designated as one of the four key communes for Bat Do bamboo shoot cultivation in Tran Yen district, Hung Khanh is focusing on zoning off and building bamboo shoot farming area while urging locals to switch from less-efficient crops to this kind of tree.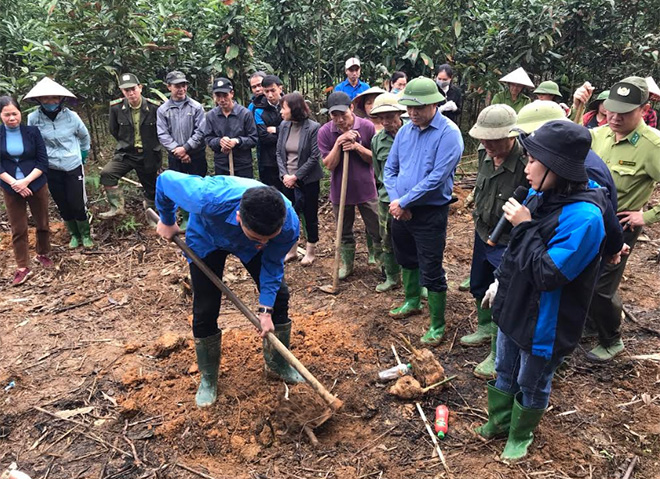 Agricultural promotion workers guide farmers in Hung Khanh commune in cultivation technique for Bat Do bamboo.
Planting Bat Do bamboo for shoots on a site of nearly 1ha from 2009, the family of Tran Van Anh in Tinh Hung village, Hung Khanh commune, grew the trees on three more hectares after seeing its economic value. With the State support in saplings and technical guidance, he plans to extend it to six ha this year.
like Anh's family, the family of Pham Van Lam in Ngon Dong village switched to Bat Do bamboo for their one hectare of land from trees of less economic value.
Hung Khanh commune strives to grow Bat Do bamboo on an additional 20ha this year.
Growing on steep hills, Bat Do bamboo can generate an annual income of 3 million VND per ha during the first three years of farming. After that, if cared for well, the tree could fetch up to 30-40 million VND per ha each year.
Thanks to its high economic value, the cultivation of this kind of tree has been expanding in the commune. So far, the total area under Bat Do bamboo has reached nearly 250ha, mostly in Khe Ngang, Ngon Dong, Tinh Hung and Dat Quang villages.
Apart from expanding farming area, Hung Khanh is carrying out support policies to attract investors to buy and process bamboo shoots.
Chairman of the communal People's Committee Tran Van Tam said this kind of tree suits the local land, climate and labour conditions. This year, the Yen Thanh joint stock company will build a factory in the local industrial cluster for the processing of Bat Do bamboo shoots, thus enabling farmers to sell shoots at stable prices for a long term, encouraging them to expand concentrated production zone to improve income.
Other news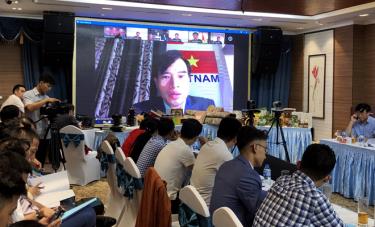 A trade promotion event in Yen Bai is scheduled to take place on October 28 via videoconference.
In 2019 and 2020, Van Yen district had 15 products meeting standards of the "One Commune, One Product" (OCOP) programme as recognised by the Yen Bai provincial People's Committee. It is expected to have from six to eight more qualified products by the end of 2021.
In the first nine months of 2021, Party organisations and Party cells in Yen Bai city in the province of the same name presented badges of Party membership to 471 members.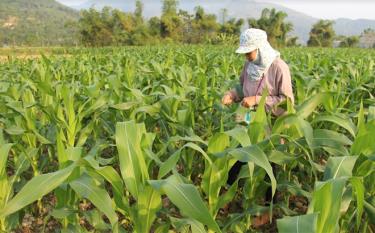 Yen Bai province has set a target to cultivate over 9,920 ha of farmland in the winter crop of 2021, raking in an estimated economic value of about 300 billion VND (13.16 million USD), or approximately 30 million VND per ha.