Party leader offers incense in commemoration of late President Ho Chi Minh
Saturday, January 21, 2023
Party General Secretary Nguyen Phu Trong offered incense in tribute to late President Ho Chi Minh at House 67 inside the Presidential Palace complex in Hanoi on January 20 on the occasion of the Lunar New Year (Tet) Festival - the biggest and longest festival of Vietnamese people.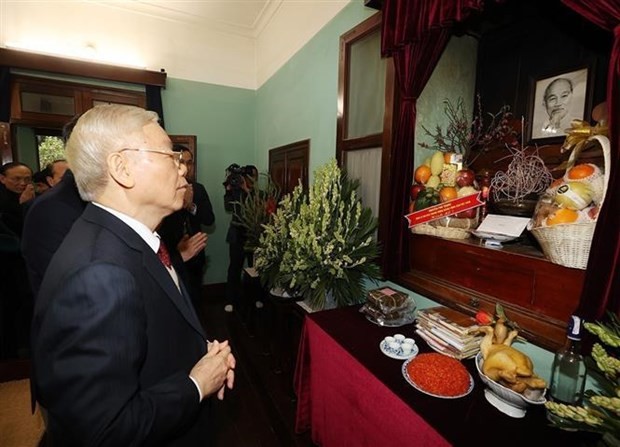 Party General Secretary Nguyen Phu Trong offers incense in tribute to late President Ho Chi Minh.
House 67, where President Ho Chi Minh breathed his last, still keeps many remembrances associated with his life and career.
The Party chief expressed his deep gratitude to the beloved President for devoting his whole life to the national independence and freedom as well as the people's happiness.
Meeting with the relic site's staff, the Party leader praised their efforts to well perform their assigned tasks, while asking them to continue introducing the life and revolutionary career of President Ho Chi Minh to both domestic and foreign visitors.
He expressed his wish that the relic site's staff members will have a new year full of happiness and health.
The Party leader was presented the book "Ho Chi Minh and "Nhat Ky Trong Tu" (Prison Diary), which was published in 2022 on the occasion of 80 years since the President wrote the work (August 1942 - 2022) and 35 years since UNESCO issued Resolution 24C/18.65, which honours President Ho Chi Minh as a Hero of National Liberation and a Great Man of Culture of Vietnam (November, 1987 - 2022).
House 67 in the Presidential Palace is where President Ho Chi Minh lived, worked and passed away. It provides a venue for the Political Bureau's meetings during the fiercest years of the Vietnam war.
Other news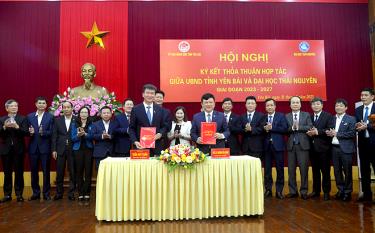 The People's Committee of Yen Bai on March 21 held a working session with Thai Nguyen University to strengthen cooperation in training, scientific research, technology transfer, and human resources development, during which a collaboration deal was signed.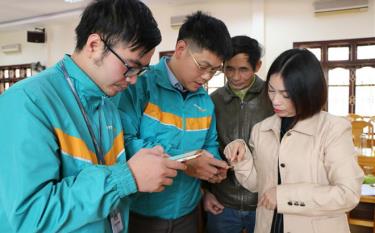 The northern province of Yen Bai will organise training courses and activities to increase public awareness of digital transformation for 700 businesses and over 1,400 individuals in May this year.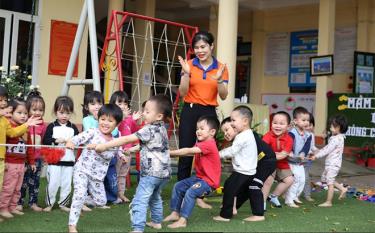 The resolution of the 19th Yen Bai provincial Party Congress for the 2020 - 2025 tenure, issued in September 2020, set several targets, including mobilising and effectively using every resource for fast and sustainable development in a green, harmonious, identity-imbued, and happy manner.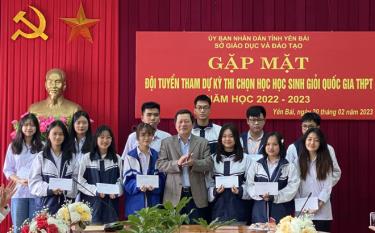 YBO- The Department of Quality Management under the Ministry of Education and Training has announced the results of the national exam for excellent students in the 2022-2023 academic year. Accordingly, 33 out of 62 contestants of Yen Bai won prizes of the exam, with two first, six second, 13 third and 12 consolidation prizes.